Sometimes when you are looking for a new house or apartment, you'll pay attention to the neighborhood environment, traffic, location, etc. These are essential things to help you consider whether or not it's worth living. Same as the kitchen environment, these are also important things you need to consider, such as poor ventilation system, lousy sewing system, some corners or spots are hard to access for cleaning… These are potential "monsters" that will not be friendly to your kitchen.
But have you ever noticed that the cookware you are using is also a matter that needs strong attention? Some cookware uses terrible quality materials; they might look as nice as they seem to be, but they could possibly affect your health condition. Imagine that you just bought a new pan and started to use it, but the cooking smoke is insanely heavy and always burnt your food… 
And what we are going to show you today is what kind of cookware is considered green and eco-friendly. I am sure that after reading this article, you'll have a clear thought about what healthy cookware is and how to choose them.
Green:
What's the first thing comes to your mind when speaking green? Green plants, grass, or just green color? Widely speaking, green is a concept of environmental sustainability that we know well due to global warming. As for cookware, green stands for non-toxic, no hazardous materials like lead or cadmium. 
But for non-stick cookware, mainly points to the two chemical materials: PTFE and PFOA. You may take them as the same, but they are not. PFOA (Perfluorooctanoic acid) is the material that has been used for making Teflon pans, along with other water-resistant products like stain-resistant carpets or water repellent clothes. While PTFE (Polytetrafluoroethylene) is the coating itself, better recognized by its brand name, Teflon. PFOA is considered a carcinogen that is harmful to the human body, and it is released during the manufacturing process. Luckily nonstick cookware today is no longer using PFOA to make the nonstick coating after 2015. 
Unlike PFOA, PTFE is considered no risk to health and is safe for human consumption. But it can easily break down once it's heated over 600 Fahrenheit, which is its melting point. But even at lower temperatures of about 450 to 500F, it starts to break down and release the fumes that could cause flu-like symptoms which should not be inhaled.
Thus, when we choose the "green" non-stick cookware, first priority is to choose those ones that are "PFOA-free", which is highly recognizable by its green logo.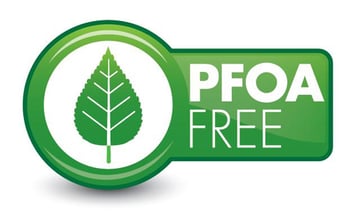 Eco-friendly:
Also known as Environment-friendly processes or environmental-friendly processes, according to Wikipedia, they are sustainability and marketing terms referring to goods and services, laws, guidelines, and policies that claim reduced, minimal, or no harm to ecosystems or the environment. 
For cookware, it represents producing products that do well for the environment, what they are made of, and if they are durable enough for long-time use. If a pan or pot only requires less heat energy and it's produced using sustainable material, all can be called eco-friendly, just like what green symbolizes. Good heat conductivity means it can save more energy. For example, a pan has been heated for a long time using a gas stove(or any other), but it requires a longer time to be heated evenly, not to mention used it for food boiling or other methods that are require lots of heat energy.
So generally speaking, eco-friendly cookware mostly depends on cookware's quality, checking on product page and other buyer's reviews would help you to distinguish a good pan. 
Cookware Alternatives:
I know you might still concern about whether there are actually green and eco-friendly cookware available on current market. And how to choose among so many options? Well there is, and it's called granite stone cookware.
It has excellent nonstick performance, only a little oil or butter for cooking, meantime it reduces 70% smoke & co2 emissions, saves up to 60% on oil used during cooking, 70% water while washing, and 50% overall cooking time, 50% gas and electricity cost owing to well heat conduction & retention compared with cast iron pan. It is built on the die-cast aluminum core, which brings outstanding heat distribution, and warms up quickly and evenly. Only low to medium heat can achieve a better effect on cooking, reducing your overall cooking time and saving your gas and electricity costs.
Granite stoneware is considered the most healthy and safe cookware available on the market, made with no lead, no harmful chemicals of any kind, 100% free of APEO, GenX, PFBS, PFOS, PFOA, passed FDA, SGS, MA, CNAS food-grade safety inspections, giving you a safe and healthy meal.
Sources:
What Is PFOA (and why NOT to cook with it!)